Let's Play With SQLModel
Procrastinating learning SQL prevented me from using one of the world's best databases. With SQLModel, I learnt to stop worrying about SQL and enjoy programming with it.
As I continued with my project of dealing with 5 million Monopoly Junior games, I had a problem. Finding a way to play hundreds of games per second was one thing. How was I going to store all my findings?
Limitations of using a CSV File
Initially, I used a CSV (Comma Separated Values) file to store the results of every game. Using a CSV file is straightforward, as Python and pandas can load them quickly. I could even load them using Excel and edit them using a simple text editor.
However, every time my Streamlit app tried to load a 5GB CSV file as a pandas dataframe, the tiny computer started to gasp and pant. If you try to load a huge file, your application might suffer performance issues or failures. Using a CSV to store a single table seems fine. However, once I attempted anything more complicated, like the progress of several games, its limitations became painfully apparent.
Let's use SQL instead!
The main alternative to using a CSV is to store data in a database. Of all the databases out there, SQL is the biggest dog of them all. Several applications, from web applications to games, use some flavour of SQL. Python, a "batteries included" programming language, even has a module for processing SQLite — basically a light SQL database you can store as a file.
SQL doesn't require all its data to be loaded to start using the data. You can use indexes to search data. This means your searches are faster and less taxing on the computer. Doable for a little computer!
Most importantly, you use data in a SQL database by querying it. This means I can store all sorts of data in the database without worrying that it would bog me down. During data extraction, I can aim for the maximum amount of data I can find. Once I need a table from the database, I would ask the database to give me a table containing only the information I wanted. This makes preparing data quick. It also makes it possible to explore the data I have.
Why I procrastinated on learning SQL
To use a SQL database, you have to write operations in the SQL language, which looks like a sentence of gobbledygook to the untrained eye.

SQL is also in the top 10 on the TIOBE index of programming languages. Higher than Typescript, at the very least.
I have heard several things about SQL — it's similar to Excel formulas. However, I dreaded learning a new language to dig a database. The landscape of SQL was also very daunting. There are several "flavours" of SQL, and I was not sure of the difference between PostgreSQL, MySQL or MariaDB.
There are ORM (Object-relational mapping) tools for SQL for people who want to stick to their programming languages. ORMs allow you to use SQL with your favourite programming language. For Python, the main ORM is SQLAlchemy. Seeing SQL operations in my everyday programming language was comforting at first, but I found the documentation difficult to follow.
Furthermore, I found other alternative databases easier to pick up and deploy. These included MongoDB, a NoSQL database. They rely on a different concept — data is stored in "documents" instead of tables, and came with a full-featured ORM. For many web applications, the "document" idiom applied well. It wouldn't make sense, though, if I wanted a table.
Enter SQLModel!
A few months ago, an announcement from the author of FastAPI excited me — he was working on SQLModel. SQLModel would be a game-changer if it were anything like FastAPI. FastAPI featured excellent documentation. It was also so developer-friendly that I didn't worry about the API aspects in my application. If SQLModel could reproduce such an experience for SQL as FastAPI did for APIs with Python, that would be great!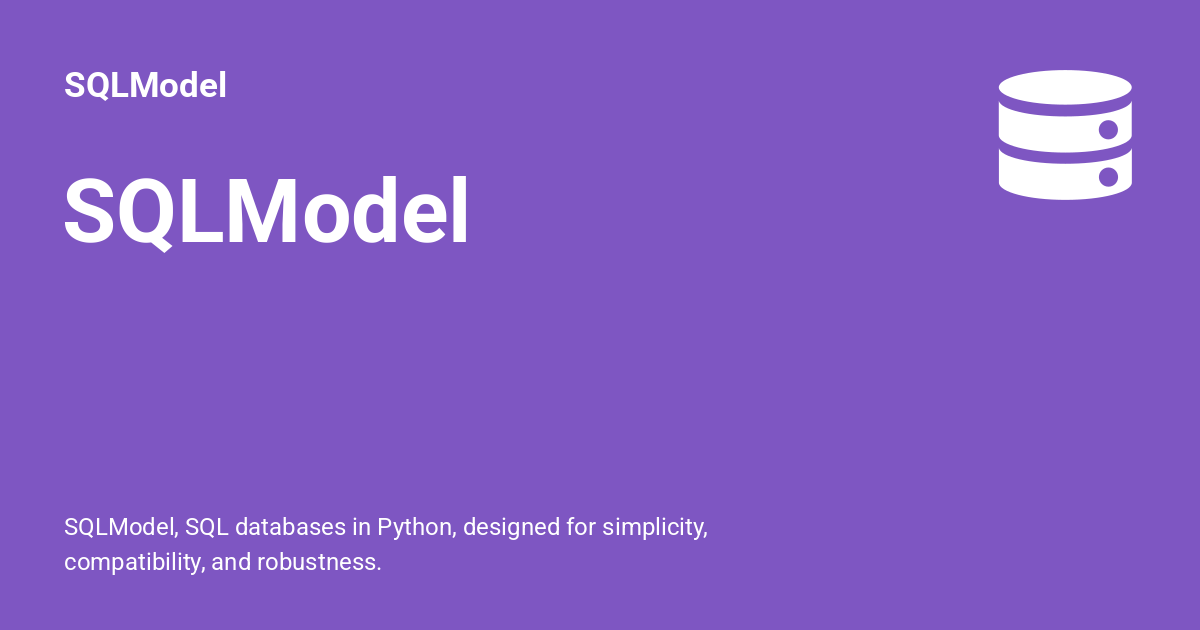 This post is for subscribers only
Already have an account? Sign in.