Staying away from the office
As the pandemic recedes, advances in remote working are threatened. I suggest that employees have to be better at remote working to retain these advances.
If you are an avid follower of this newsletter, you'd know that I have been sounding the drum that a "reversion of the mean" will happen soon. For example, I worried that online seminars will be abandoned.
The next target is working remotely. Recently, Elon Musk's edicts raised the argument that working in the office is the only way to deliver good products. Some would agree that being in the office is the only way to work hard, and working from home is akin to goofing off. Such perspectives, which were waved off during the pandemic, will be used as a way to make workers return to the office.
The threats need not be so obvious, though. Remote working can be undone by sheer incompetence.
It's easy to buy cool furniture and new Zoom rooms. Heck, it's not difficult to put a statement in a policy to say that we allow remote working. Since many workers view remote working and working from home as important factors in considering a job, management has the incentive to broadcast that they are flexible and progressive.
However, if management and staff don't know how to work remotely, they are likely to come back to the office ultimately. Video calls might be inefficient and not having someone at your beck and call might be annoying. There are ways to make video calls more effective, just as there are ways to make meetings more effective as well. The changes needed to work remotely are extensive, and if you can't be bothered to change your ways, you are better off sticking with the familiar ways, even if they are mediocre.
If working remotely is important to you, I believe it is important to learn how to work remotely. Unfortunately, as lawyers who are used to working out of a cubicle day and night, our toolbox for communicating is quite limited. The Law Gazette is replete with articles on just how to get your work-from-home set up right.
Once again, I decided to turn to books for coders for more ideas on how to work remotely. I've wanted to read "Effective Remote Work" by James Stanier for some time and finally got it during a sale recently. (That sale is still on for Black Friday, I'd think)
As someone who experiments and has worked from home for the past 2 years, I thought I covered everything. However, I found interesting, practical suggestions in the book:
Holding a regular virtual office hour: Some people miss having a lawyer in the office they can just walk up to and ask "quick" questions. I hate that. We can compromise though. I can block an hour or so to work openly on a video call that anyone can join. This has the benefit of being accessible, spontaneous and without obligation. I can stand an hour a day at this.
Creating "artifacts" is important for involving more people in the conversation at work. This can be meeting notes, memorandum or design notes. I used to think this was important to help me remember stuff, but it also helps others get involved too. It also helps make you look active, engaged and proactive, as opposed to "showing face" in the office.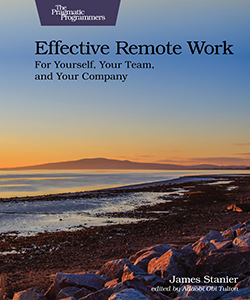 I haven't finished the book, and I am hoping to gain more insights on its organisational prospects of remote working
Remote work is important because it encourages inclusivity for all. I am an introvert who happened to adjust to the working world, albeit poorly. Remote work during the pandemic helped me to display my best qualities to my colleagues. If you care so much about remote work and its possibilities, it is important that you are good at it. Setting a great example helps others to learn from you as well, and increases your influence in your organisation.
What do you think? Has remote working been good for you? Is it worth becoming better at it?